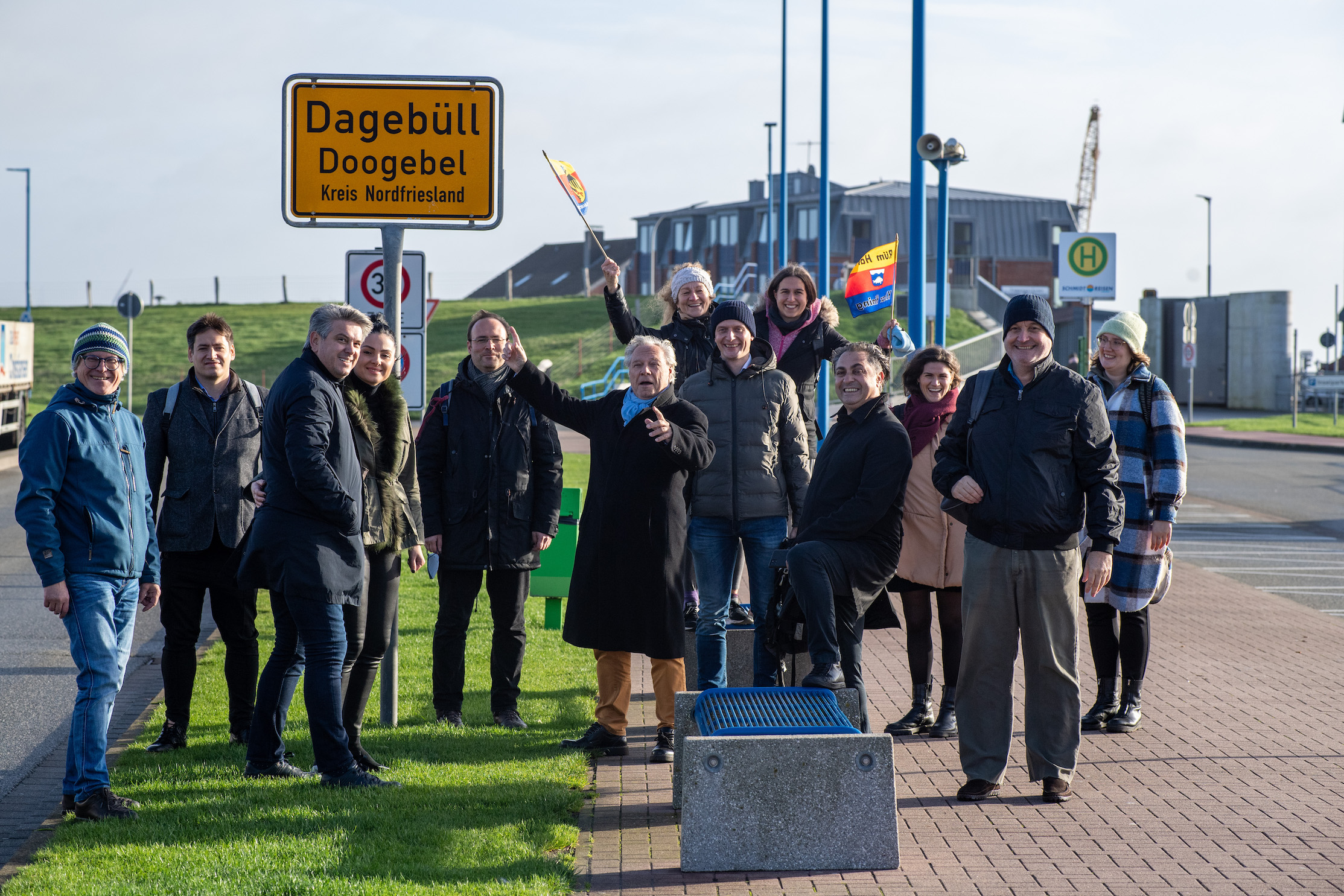 How tourism can help a minority – and how it harms it
The peaceful town of Dagebüll/Doogebel does not experience this every day: members of 15 different minorities from all over Europe gathered there from 18-20 November, partly in person, partly digitally, to hold the annual conference of the FUEN's Working Group of Minorities without a Kin-State.The North Frisian hosts themselves belong to this group and welcomed about 20 participants from various European minorities – among them Ladins from South Tyrol, Roma, Sorbs, Aromanians from Romania and Pomaks from Bulgaria.
photos: Martin Ziemer
In addition to numerous working sessions, the programme of the annual conference also included insights into North Frisian culture: a visit to the Hans-Momsen-House, which conveys the way of life of the Hallig Frisians, as well as an excursion to the island of Föhr and the Frisian museum there gave the international guests vivid impressions of culture and language.
The core topic of the conference was the question of how tourism can contribute to preserving the language and culture of a non-kin-state minority. "During our visit to Föhr, the massive confrontation between mass tourism on the one hand and the over 1,000-year-old Frisian culture on the other became clear," says Bahne Bahnsen, FUEN Vice President, himself a member of the Frisian minority and speaker of the Non-Kin-State Working Group.
How can one handle such a situation and find positive effects for the minority language and culture? That is what the discussion revolved around. "On Föhr, it would simply start with giving guests a place-name sign in Frisian at the ferry pier where they are on holiday: namely on Föhr/Feer," says Bahne Bahnsen. "And even if it's just a small flag, a sign or a little word in a shop - that can already make a big difference." He knows from experience how difficult this path is and how much convincing has to be done - but if it were not followed as a minority, the unique language and culture would be threatened with extinction. In this context, he cites the neighbouring island of Amrum as a positive example.
One fact that surprised many participants was the administratively closed unity of North Frisia, the home of the North Frisian minority. Whether Ladins, Aromanians or Bretons: most minorities without a mother state have the problem of having to fight for their rights and the preservation of their culture not only in different regions, but even in different states. In comparison, the situation is much easier for the North Frisians.
"The meeting has further strengthened our ties and we have entered into a fruitful dialogue that we will continue," Bahne Bahnsen sums up. He has certainly gained a few ambassadors for North Frisian culture. "At the cultural evening in a historic Frisian parlour, no one wanted to go home," he says with a smile.
The Non-Kin-State Working Group has 25 member organisations throughout Europe. It operates under the umbrella of FUEN (Federal Union of European Nationalities), which represents the interests of Europe's autochthonous national minorities, nationalities and language communities. FUEN currently represents more than 100 member organisations from 35 European countries.
More pictures of the event in our photo gallery